Campaign
In this section you will find articles about our campaign for better pet insurance.. and stories of those who have found out about the pitfalls of pet insurance the hard way!
Premium of almost £5,000 per year for terminally ill Max
Max was Victoria's Newfoundland dog who bounded into her life in 2012.   Victoria's last Newfoundland, Beau, had recently died of cancer at the age of 4 ½ which made Max all the more precious.
The costs for Beau's cancer treatment had been paid by his pet insurance policy which was an Animal Friends' lifetime policy.   Victoria had been impressed by the service she had received from the company and didn't hesitate to take out an Animal Friends' lifetime policy for Max too.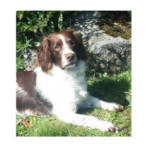 Ben's Story – Could Your Lifetime Policy Cost You £20,000?
When Cassie got a new springer spaniel puppy, Ben, in 2011 she knew that she wanted the best pet insurance policy she could find so she would never be put in the position of having to find large sums of money for vet bills. 
Like many other people who choose pet insurance, she preferred to pay a regular amount for peace of mind, and to know if Ben was unlucky enough to get ill or develop lifetime conditions then his vet fees would be paid by the insurance company.