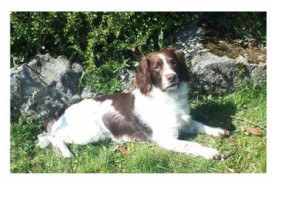 When Cassie got a new springer spaniel puppy, Ben, in 2011 she knew that she wanted the best pet insurance policy she could find so she would never be put in the position of having to find large sums of money for vet bills.
Like many other people who choose pet insurance, she preferred to pay a regular amount for peace of mind, and to know if Ben was unlucky enough to get ill or develop lifetime conditions then his vet fees would be paid by the insurance company.
Cassie already had a 1-year-old Springer, Charlie.   When Charlie arrived Cassie had extensively researched the pet insurance market and chosen a policy offered by AXA which provided lifetime cover with a limit of £7,000 per annum.
AXA was a large insurance company with a good reputation and so when Ben arrived Cassie had no hesitation insuring him with AXA too.   Ben's premium for the first year was just £20 a month, which although not the cheapest, was a good price for a quality lifetime policy.
Unfortunately though Ben has not been lucky with his health.  He developed arthritis was still very young and this, along with other conditions, meant that Cassie needed to claim £2,300 in the first couple of years of Ben's life.
When Ben's renewal for his third year with AXA increased to £30 Cassie was understandably concerned.   His premium had risen by 50% in just two years – the peace of mind that the insurance gave her, was becoming expensive.
But what really concerned Cassie was that she had recently received a letter from AXA telling her that they were withdrawing from the pet insurance market and would no longer be offering new policies.
This was deeply disappointing.   She had believed AXA when they said they would offer lifetime cover – and thought that providing she paid the monthly premiums – AXA would cover her two spaniels for their lifetime.
After careful consideration she decided to cancel Charlie's policy and take out a new policy for him with Petplan.   But doing the same for Ben wasn't an option as Petplan wouldn't pay for the treatment of his arthritis or other conditions.   Ben would have to stay with AXA for the time-being and await developments.
In 2020 poor Ben had more health problems  –  one of his feet was badly infected by a grass seed – so Cassie had to make yet more claims for vet fees.
Then Cassie heard from AXA.  They told her that all policies were being transferred to NCI at the end of the current policy year.   And that she would hear from NCI when the renewal was due.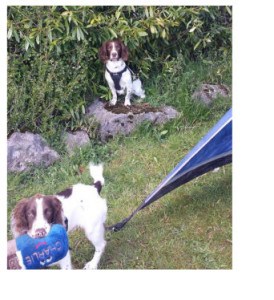 So the policy that Cassie had chosen so carefully – with a major insurance company with a good reputation – which she thought was for Ben's lifetime was to be transferred to a company she had hardly heard of.     A little internet research revealed that NCI's main business was vehicle rescue – this was hardly reassuring!
But because of Ben's pre-existing conditions Cassie didn't really have any option but to wait for the renewal premium which was due in October.
It seemed inevitable that the premium would rise – but nothing could have prepared Cassie for the quote she received.   NCI wanted an eye-watering £160 per month which equated to almost £2,000 a year to continue with Ben's insurance!
Cassie was devastated – there was no way she could afford this premium – but Ben had ongoing treatment costs – and she couldn't afford those either.
Eventually after taking a long hard look at her finances – Cassie decided that her top priority was taking care of Ben's future health costs – and although she knew about his current needs – there was no way of knowing what would happen in the future.
So she decided to accept NCI's renewal terms – but it meant that the new gas boiler would have to wait,  as would her wedding.
AXA's decision to pull out of pet insurance has changed Cassie's life.   In fact Cassie calculated that the decision will probably cost her an extra £20,000 in pet insurance costs over Ben's lifetime!
So much for the peace of mind Cassie thought she was buying!
Unfortunately stories like Ben's are not uncommon.  
I personally strongly believe that UK pet insurance can be made fairer for all of our pets which is why The Pet Insurance Guide plans to campaign for better pet insurance.   Please do support our campaign by simply liking or following us on social media.   It is only a single click!  
If you feel you can do more then please do share Ben's story with your friends and encourage them to support the campaign too! Thank you.
More Information
More Stories
More About Lifetime Pet Insurance