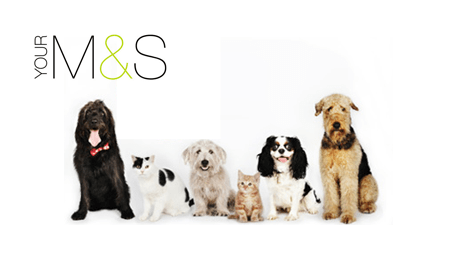 Our Verdict
M&S pet insurance has several policies on offer. Pet owners get to choose a policy based on the services that they would like to enjoy. At the moment, the policies range from basic to comprehensive and are dependent on the kind of services that each pet owner would like their pets to receive.
We noted that pet owners are not expected to make any kind of contributions. It does not matter what age-group your pet is in; no contributions will be expected of you. We should, however, point out that in the course of our research, we did, in fact, come across some disturbing reports.
Some of the reports we encountered seemed to allude to the fact that the premiums may start to rise a few months after purchasing your preferred plan. We have taken our time to provide you with a comprehensive review of the M&S Pet Insurance Policies.
The Pet Insurance Guide uses a 5-factor rating system. Our final assessment of this company led to it getting an overall score of 3.7 out of 5 as you can see here. Marks and Spencer PLC is a company that has been around for a long time and does not require any introduction from us.
If you are a first-time pet owner looking to insure your companion, you should note that the insurance services are provided via the M&S Bank's Finance Division.
Another thing to note is that the Royal Sun Alliance (RSA) is responsible for underwriting all the insurance policies from M&S.
Customer Feedback
The Pet Insurance Guide prides itself in being able to offer comprehensive reviews to all pet owners looking for an insurance cover. We, therefore, make it a point to conduct a survey to determine whether the clients who have worked with the pet insurers being reviewed have been satisfied with the services or whether they have some complaints.
For this particular pet insurer, we conducted the surveys using our sister site referred to as Pet Insurance Surveys.
Based on the results from our most recent surveys, the company did not perform very well. And as noted earlier, there have also been complaints of high premium increases in the amounts that pet owners are required to pay.
You can learn more about recent customer reviews here.
M&S Pet Insurance Benefits
The following are the standout points associated with purchasing insurance premiums from this company:
They have lifetime policies
Its premium policy provides coverage for accidents, illnesses, and dental procedures
Pet owners can choose to make increases which would guarantee them lower premiums
Disadvantages
It is only the premium policy that provides a holiday cancellation cover and a travel cover
Increased number of complaints pertaining to premium increases
Additional Factors
Before you purchase a cover from M&S, you should note that:
The premium policy will pay up to £200 for expenses related to prescription food
New policies do not come with maximum age limitations
A normal policy only provides coverage of up to £1,000 in treatment expenses per twelve-month period.
Its policies include the following:
Essential Policy—It is a time-limited policy designed to provide a coverage of up to £3,000 for each condition.
Premier Policy—It is a lifetime policy with a maximum cover of up to £7,000 for each year
Standard Policy—It has a maximum cover of up to £4,000 for all conditions
M&S offer policies ranging from the very basic to quite comprehensive.  They do not though require you to make contribution payments for pets of any age.   However you should be aware that we have heard some reports of high renewal premium increases.
This review of M&S Pet Insurance policies by The Pet Insurance Guide published in March 2022. For further information about how the rating of 3.7 out of 5 was arrived at please see 
M&S Pet Insurance – How Good is it?
Marks and Spencer Plc need little introduction!
They provide pet insurance through their finance division – M&S Bank.
Their pet insurance policies are underwritten by Royal Sun Alliance (RSA)
Recent Claim Experiences with M&S
If you have claimed on a M&S policy in last 12 months it would be great if you could share your experiences with others by completing our 2-minute survey.